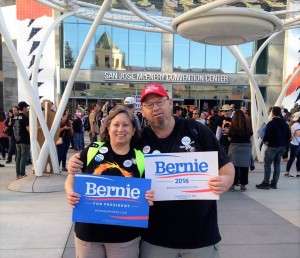 Mark Anderson 2/19/2016
Hello. Woke up on a couch this morning. A very nice woman, Meryl Baskervill, has offered free lodging for Bernie workers working out of the Fernley office, a big area. Ms. Baskervill is a very nice woman and is making a very important contribution to our efforts. I appreciate her support for the campaign, and I really appreciate her gracious hospitality to me. And I must say that as couches go, my fat old body had no complaints. The woman who I brought up with me from the Bay Area and am working with had the guest room. Ms. Baskervill has dogs. She has a lot of dogs that are a tad "barky." I should have worn my BART earplugs.
The temperature was 25 degrees when I got up and went to the car to get it warmed up. In the early morning sun, the red van sparkled in a fine frost. It was a very crisp high desert morning; VERY clear and very still. We made our goodbyes to Ms. Baskervill and set out through the sprawling urban landscape of Silver Springs on Hwy 95 heading back to Fernley. We arrived before the office opened (Ms. Baskervill rises by 5:15 am) and so searched for a breakfast place. We had gone to a notable chain restaurant whose logo features the family Urses the morning before and wanted to try an actual local breakfast place, but were suckered by the smart phone into heading over to a casino to begin our day. There are no "local" breakfast places around here, because they cannot compete with the casinos. Any place that has a traffic light has a casino.
We arrived at the office and got caught up on the latest information about what was going on generally in the Fernley area, and what we were going to be doing. We had received Temporary Precinct Chair (TPC) training when we arrived in Reno Wednesday, and we did not know exactly what we were going to be used for during the caucusing. I had originally thought we were to be observers, but that had quickly changed to "maybe anything" before I actually headed up to Nevada. At the conclusion of training, the Democratic Party NV people said they would call registered volunteers (us) to assign tasks. They had not as yet. So I mentioned our situation to poor old Cooper, the horribly harassed coordinator in Fernley, and that we were probably going to default to observers again, available for his use. We picked up our canvassing packets and headed out to do a day of good in Fernley, making second passes for folks that were not home the first pass. Windy.
Did I say it was a beautiful still morning? It was, and then the wind punched the clock and got to work. Lots of soil in the air. We covered our first packet and got to work on the second one. We took a break for lunch three blocks down from the office. We stopped by the office and got fresh hot news: the Democrat in charge of arranging TPC personnel for caucuses needs people because somehow he didn't get them. Surprise.
I say "news," but couldn't you see this coming a mile away? I was sure last minute fires were going to spring up higgledy–piggledy. And so they have, but they didn't count on US! Here we are to save the day…, well; we're going to help anyway.
As it turns out, we are going to be TPCs in Yerington. So, our canvassing was abbreviated for the day. We are now awaiting instructions to go to the house of the Democratic Party guy's house to meet with his wife to get supplementary training and the TPC material packet. Then we travel for an hour out into the wilds of Yerington. The fun begins at 9:00, officially at 10:00, for the caucus workers. Voters arrive at 11:00 and the line ends at 12:00, sharp! (They mean it)
I am glad I am here and that I am helping. It is scary, let's face it, to be in charge of part of an event I have never even seen before, an event that is so vital to the campaign, and possibly to the history of the country. I hope I can sleep tonight.
I suppose it is too late now to call upon you to help. Perhaps you could call right now, that, I think, is still important. Probably very important now that I think about it some more. Please call! Call, call, call. But I guess it is too late for you to come up. We could have used you. We could use about a dozen, maybe more than a dozen people out of this office. It would have made a big difference. We are lacking people at different levels in many caucus sites; some are missing our people completely. We have to hope they are missing DNC-candidate people as well. The Democratic Party people, however, tend to favor the DNC-candidate, that is a thing we have all been talking about on these pages. So cross your fingers.
That being said, almost all the news about the campaign is good news, all things being equal, we should pull out a slim victory. I have been getting a lot of positive indicators from canvassing and spending time at the office. The phenomenon of Republicans turning to Bernie is a real thing here in Nevada. And we are getting a lot of independents as well. Whatever happens, tomorrow will be a hell of a thing. I hope Bernie wins, as do we all, but the outcome is going to be world shattering in any event. If he wins, our way with voters will be easier, if he "loses," it will be harder, we will have that much more phoning to do. If he wins, it will be harder with the media, the party, and the corporations, they will step up their game, if we lose, maybe we get a little more leeway? We'll see. Steele yourselves for the next lap in this desperate race.
So that's it. Go phone.