I expect I will catch heat from my Democrat friends who think we shouldn't say anything negative about Hillary because it will damage her chance of defeating Trump if she wins the primaries. I disagree. These issues need to be revealed to Democratic voters now, while they can still vote for someone better.  People who don't learn about these issues may vote for the wrong candidate.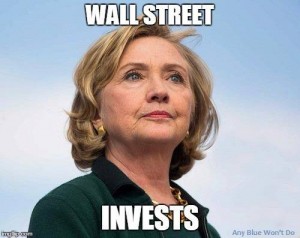 (c) 2016 Brenda Grantland
Truth and Justice Blog
Many news sources are now clamoring for Hillary to release the transcripts of her 3 speeches to Goldman Sachs, for which she was paid $675,000 (Bill also made $200,000 speaking to Goldman Sachs) — but Goldman Sachs is only the tip of the iceberg. Between January 2013 and 2015 the Clintons took speaking fees from 150 different corporations and organizations, totaling $47,756,500 – that's right $47.7 million!
The Clintons' six-figure speaker fee scandal is not a right-wing media invention. Hillary's own website released her family's income tax returns for 2013 and 2014, and published the list of speeches Hillary Clinton and Bill Clinton made and the speaking fees they were paid during the year 2013. Several sites, including the Post News and The Zero Hedge released complete lists of the speaking fees from 2013 through the spring of 2015, when Hillary announced her campaign and they quit speaking for pay. These spreadsheets were turned over to the press by the Clintons. I put all of the figures into a database so I could sort and analyze them in detail.
Hillary's itemization of speaking fees for 2013 shows 41 speeches, totaling $9,680,000 – averaging $236,000 per one-hour speech. Bill's 2013 speaking fees for 41 speeches in 2013 total $12,795,000, averaging $312,073 per speech.  For the speaker fees Bill and Hillary earned in 2014 and 2015, I am relying on the data published on Zero Hedge and the Post News sites.
In 2014 Hillary made 44 speeches, earning her a total of $10,174,000, for an average of $231,227 per speech. Bill made 37 speeches, totaling $9,495,000, averaging $256,621 per speech.
Both Clintons' itemizations end in early 2015. Hillary's last six-figure speech was on March 19, and on April 12 she announced her presidential bid. Bill continued making six-figure speeches until May 14. His 15 speeches earned him $3,650,000, averaging $243,333 per speech. Hillary's 6 speeches totaled $1,475,000, for an average of $245,833 per speech.
Many of the speeches were to big banks, hedge funds and wealth management conglomerates – totaling $9,340,500. Hillary made 3 speeches to Goldman Sachs, 2 to Deutsche Bank, and one each to: Ameriprise, Apollo Management Holdings, LP, Bank of America, Canadian Imperial Bank of Commerce, Fidelity Investments, Golden Tree Asset Management, GTCR, Itau BBA USA Securities, Kohlberg Kravis Roberts and Company, Morgan Stanley, Sanford C. Bernstein and Co. LLC, and UBS Wealth Management.
Bill made 4 speeches to UBS Wealth Management, 2 speeches each to Handelsbanken Capital Markets and SAP Global Marketing Inc.,  and one each to Affiliated Managers Group, Inc., Apollo Management Holdings LP, Bank of America, Centerview Partners LLC, Citadel LLC, Deutsche Bank, Jefferies LLC, JP Morgan, Kotak Mahindra Bank, SCIP Capital Management LLC, Securities Industry and Financial Markets, Standard Life Investments Ltd., Goldman Sachs, Thomas Lloyd Global Asset Management, Veritas Capital Fund Management LC, and Zurich Financial Services.
Speeches to the healthcare industry earned the Clintons $5,041,500. At least one critic blamed those cash infusions from the health care industry for Hillary's opposition to the single-payer system advocated by Bernie Sanders – a system Hillary supported in the 1990s.  See Hillary Clinton's Single-Payer Pivot Greased By Millions in Industry Speech Fees.
The Clintons' combined totals for 2013 through the spring of 2015 are $47,756,500 for 184 speeches, averaging $259,546 each. The sheer dollar amounts are staggering for most Americans. It would take most of us two to four years — or more — to earn what they made in one hour!
What did she say during those speeches that could possibly be worth six figures ($225,000 to $400,000) for a one-hour speech? Apparently the tax-paying public may never know. See Hillary Clinton Laughs When Asked if She Will Release Transcripts of Her Goldman Sachs Speeches.  At the town hall meeting in Las Vegas on February 18, Sanders supporter Joe Saco asked her "why are you hesitant to release transcripts, or audio-video recordings of those meetings in order to be transparent with the American people regarding the promises, and assurances that you have made to the big banks?" She replied "I'm happy to release anything I have when everybody else does the same, because every other candidate in this race has given speeches to private groups, including Senator Sanders."
During an interview Bernie Sanders jokingly pretended to hand over invisible transcripts of his  speeches to Wall Street, saying "there ain't none." The Hill reported "Sen. Bernie Sanders (I-Vt.) netted of $1,867.42 for two paid speeches and a television appearance last year, according to according to financial disclosure reports." The reports show Sanders donated the money to charity.
Now Hillary insists that the Republicans release their speech transcripts first. Critics argue the Republicans' transcripts aren't relevant because, unlike Hillary, they are not trying to convince the voters that they intend to rein in Wall Street. They overtly embrace assisting Wall Street.
The issue does not appear likely to go away.
"Everybody is doing it"
The Clinton's campaign claims there is nothing wrong with the high dollar speeches, pointing out that many former presidents and major government officials earn high dollar speaking fees after  they retire from public service.
Is it legal? Certainly if she accepted speaker fees from corporations while serving as president or a cabinet official it would run afoul of legal ethics laws. It takes more than that to constitute bribery. 18 U.S.C. § 201(b)(2) makes it bribery for "a public official or person selected to be a public official" to "directly or indirectly, corruptly" demand, receive or accept "anything of value personally or for any other person or entity, in return for: (A) being influenced in the performance of any official act; (B) being influenced to commit or aid in committing, or to collude in, or allow, any fraud, or make opportunity for the commission of any fraud, on the United States; or (C) being induced to do or omit to do any act in violation of the official duty of such official or person…"
"Certain ethics rules bar officeholders in various parts of government from accepting speaking fees, but nothing prevents them becoming walking cash registers after they return to private life." Talk Is Not Cheap: Why Do Ex-Politicians Earn Huge Money From Making Speeches? (ibtimes.com, 12/18/13).  Other former presidents or high ranking government officials have charged six-figure speaking fees, including George W. Bush, George H.W. Bush, Mitt Romney, Al Gore, Rudy Giuliani, Condoleezza Rice, Colin Powell, and many other lesser officials of the Clinton and Bush administrations.
Critics say there is a big difference between making speeches after retiring from public service and doing it while contemplating a run for a public office, particularly the presidency. Some believe it a conflict of interest to take millions of dollars in personal income from a group with massive power and wealth that the public wants to be reined in – especially when Hillary says she intends to rein in the abuses of Wall Street.
I won't get into those issues now, because other articles have been written about them, and I discovered something more disturbing that hasn't been written about. I took the list of the corporations and associations that they took speaking fees from and researched those corporations, finding many disturbing things about them.
Who are these groups the Clintons delivered their six-figure speeches to?
Some probably innocuous groups
Some of the speaker fees were paid by speaker series, which sell expensive memberships in their group and present a selection of prominent speakers. Some are event promoters, and it could be that they represent speeches that some event promoter set up, advertised and charged hefty admission fees for. If that is the case those speeches are probably innocuous. Some of the entities listed in the Clintons' speeches lists do not have enough of an internet presence to determine who they are, what they do, or how they could afford to spend $225,000 or more on a speech. It seems odd that they were able to spend so much money on a speech and not have a website.
Trade associations and lobbying groups
The Clintons spoke to a number of trade association and lobbying groups within various industries and geographical areas – groups that would have an incentive to make connections to lobby for their industry or community. Note that none of these are trade unions, but trade associations of companies or CEOs. Interestingly a number of the groups are Canadian.
The Clintons spoke before 6 religious groups. Bill gave one speech at a New Age mediation and spirituality retreat, for the basic $225,000. The other 5 were Jewish groups, which netted them $1,475,000. No other religions were represented.
The titans of the international corporatocracy
The "titans of the international corporatocracy" is the group that concerns me the most. No one gave these particular corporations that title officially – I am describing them that way because they exhibit the characteristics described in the Wikipedia definition of corporatocracy.
Many of the corporations that the Clintons took huge speaking fees from are huge multi-national corporations that grew to their size by aggressively merging with and acquiring their competitors, and now dominate their industries. These are the corporations that spend millions on lobbyists and get their favored legislation passed – even writing the legislation in many cases — while Congress pays little or no heed to what the public wants.
Many of the corporations the Clintons took speaking fees from are trusts – corporations so large they are near monopolies in their fields. Also in this group are firms that specialize in helping corporations mount hostile takeovers and other support services needed by trusts to gobble up the competition and become too big to fail. Some are corporations that failed and got bailed out by taxpayers — and corporations that have been broken up for anti-trust or for other regulatory violations – but have reconstituted themselves and are now as big and powerful as before.
Entities connected to debacles and scandals
Among the titans of the corporatocracy that the Clintons took speaking fees from, there are a number of corporations that have been convicted (or whose high ranking officials have been convicted) of regulatory offenses or other crimes.  Many more — though maybe not charged criminally — were fined or paid a civil settlement to get out of massive debacles they helped cause that harmed many people in the US and/or the world.
Entities the Clintons accepted speaking fees from were involved in: the Enron scandal, the Madoff Ponzi scheme, the derivatives debacle, the housing bubble, the Great Recession, and even Nazi Germany.
Before I get to the sordid details, let me say that there is quite a bit of overlap between the last two groups – captains of the corporatocracy and entities connected with scandals and debacles. Many of these largest, most powerful corporations in their class also have a string of scandals, regulatory enforcement actions, tax violations, anti-trust judgments, criminal convictions and fines. Maybe these are just battle scars for getting to the top, or the price of doing business, but I don't think so. And if corruption is inherent in becoming so colossally large and powerful, we shouldn't be letting corporations swallow up other corporations until they get so large they are out of control.

Please read Part 2 for details about the banking and financial corporations that paid six-figure speaking fees to the Clintons.